Description
In this class we will read selected chapters from the popular textbook "Athenaze" and will discuss them in ancient Greek. The main aim is to develop fluency in speaking which in turn will help you to:
remember vocabulary more easily,
internalize grammatical structures,
develop an intuitive grasp of the language.
The class will be taught in ancient Greek (with occasional explanations in English) and will be ideal for students who have some basic knowledge of the language already that they want to solidify through listening and speaking.
For whom is this course?
Prerequisites
Basic knowledge of Ancient Greek
No prior experience speaking the language is needed
Textbook
We will be using the expanded Italian version of "Athenaze" (Volume 1). You can read more about this edition here.
Time & Date
1 PM – 2 PM CET (Amsterdam, Berlin, Rome, Stockholm, Vienna)
From October 4 until December 15, 2022
Every Tuesday & Thursday
(11 weeks in total)
Teacher
Jenny Teichmann
Price
Standard: 540€
Students: 500€
About Jenny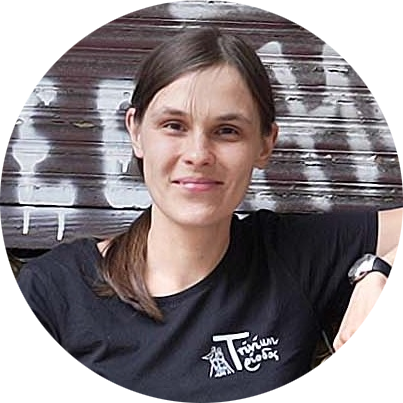 Jenny studied Classics at Humboldt University, Berlin. Since 2020 she has taught various spoken Greek and Latin classes for the Paideia Institute, New York, as well as for Triodos Trivium, online and in person.
FAQ
You can read our full FAQ here.
Register here
Registration deadline: September 25, 2022, 23:59 CET
If you want to register for one of our classes, please use the following form: