πότε;
ἅπαξ μὲν τῆς ἑβδομάδος μίαν δὲ ὥραν, τῇ μὲν οὖν τοῦ Κρόνου ἡμέρᾳ, ἀρξάμενοι δὲ ἀπὸ τῆς 18:00 κατὰ τὸ δυτικὸν κλίμα τῆς Ἐυρώπης (Central European Time)
τίσι μᾶλλον προσήκει;
τοῖς προβεβηκόσι τῇ Ἑλληνίδι φωνῇ, τοῦτο οὖν ἐστιν, τοῖς ἤδη μεμαθηκόσι τὰ ἀναγκαῖα λέγειν πρὸς τὸ διαλέγεσθαι Ἑλληνιστί, τὸ γὰρ ἐρωτᾶν γε περὶ ὧν τις ἀπορήσειε ἄν.
σκοπός ἢ τίνα ἔσται ἡμῖν τὰ πρακτέα
ὁ οὖν σκοπὸς τούτων τῶν διδαγμάτων ἔσται ἡμῖν μανθάνειν ἅμα καὶ διαλεγόμενοι περὶ ὧν ἀναιγνώσκομεν πῶς ἐδιδάσκετο τοιαῦτα παρὰ τοῖς πάλαι, μάλιστα δὲ παρὰ τοῖς ἐκ περιπάτου.
ἃ συμβουλεύω πρὸς τὸ ἀνάγνωσμα·
πρῶτον μὲν τὰ ὑπὸ A. de Libera καὶ Α-Ph. Segonds ἐκδοθέντα, πρὸς δὲ τούτοις κὰι τὰ ὑπὸ τοῦ Jonathan Barnes ἐξηγηθέντα.
διδάσκαλος
Rogelio Toledo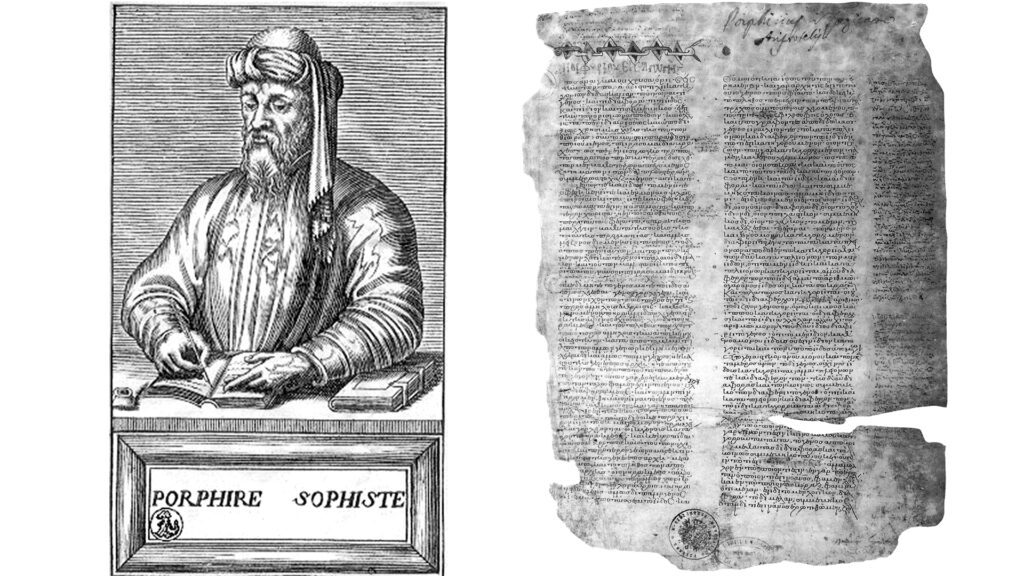 Reading Porphyry's "Isagoge" (English class description)
When?
Once a week, for an hour,
Saturdays,
18:00-19:00 Central European Time,
From October 8, 2022, until January 21, 2023
With a break from December 20, 2022, till January 3, 2023
(14 weeks of class in total)
Who is this class for?
This class is for already advanced students of AG, it is necessary to have a solid knowledge of AG grammar and a good-sized vocabulary. You should also be prepared to respond to questions and engage in discussions in AG, as this is the language the class will be conducted in.
The aim of this class
The purpose of this class will be to read and discuss the way Aristotle categories were explained by Porphyry. This text was of utmost importance in Late Antiquity and Byzantine times.
Which edition to use
I recommend using this critical edition by A. de Libera and Α-Ph. Segonds.
I also recommend checking out Jonathan Barnes commentary about the Isagoge.
Language of instruction
Ancient Greek
Teacher
Rogelio Toledo
Price
Standard: 340€
Students: 300€
About Rogelio
Rogelio studied Classics at the University of Mexico City and at the Free University Berlin. He has taught numerous Latin and Greek classes online as well as in real life. From 2020 until 2022 he worked as a teacher at the Polis Institute, Jerusalem, holding the position of Ancient Greek and Latin Department Coordinator. Rogelio is currently teaching classes for Triodos Trivium as well as pursuing a PhD in Classics.
FAQ
You can read our full FAQ here.
Register here
Registration deadline: September 25, 2022, 23:59 CET
If you want to register for one of our classes, please use the following form: