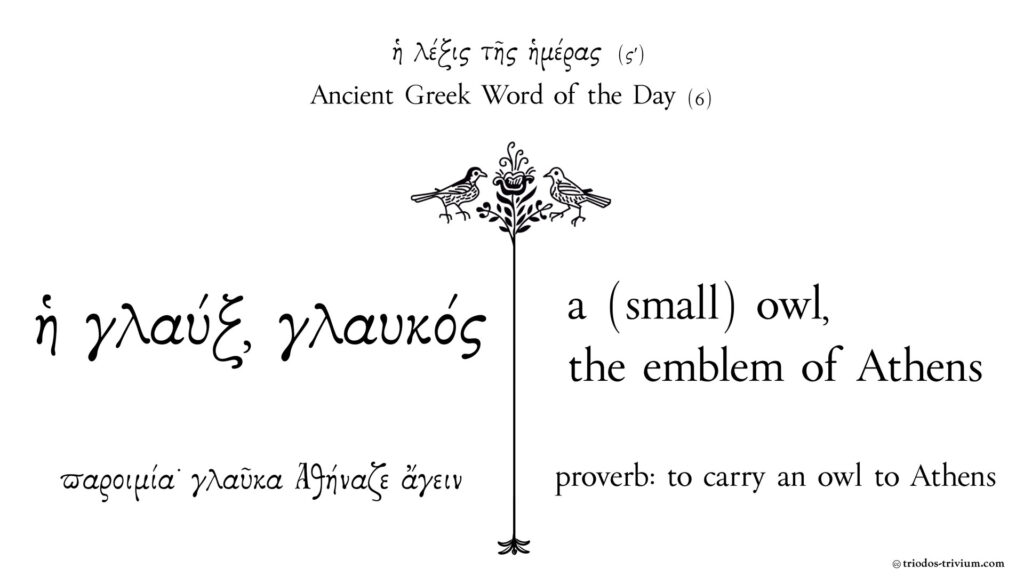 ἡ γλαύξ, γλαυκός – a (small) owl (with gleaming eyes), the emblem of Athens
–> adjective: γλαυκός, -ή, -όν – gleaming (usually of eyes), light blue or grey (also usually of eyes)
ἡ γλαὺξ ὄρνις ἀξιόλογός ἐστιν· τῆς γὰρ ἡμέρας καθεύδουσα πέτεται τῆς νυκτός· σύμβολικὸν δ' ἐστὶ ζῷον τῆς Ἀθηνᾶς τε καὶ τῶν Ἀθηνῶν· ὅθεν ὑπάρχει καὶ παλαιτάτη παροιμία ἣν ἤδη παρὰ τῷ Ἀριστοφάνει εὑρίσκομεν·
"γλαῦκα Ἀθήναζε ἄγειν"
αὕτη δ' ἡ παροιμία λέγεται ὅταν ἄχρηστόν τι ποίηται· γελοῖον γάρ ἐστι γλαῦκα Ἀθήναζε κομίζειν ὅπου πολλαὶ ἤδη γλαῦκες ὑπάρχουσιν.
The owl is an interesting bird because it sleeps during the day and flies during the night. It is also the symbolic animal of Athena and Athens, which is why there also exists a very ancient proverb that we can find already in Aristophanes:
"to carry an owl to Athens "
This proverb gets said when somebody does something useless: For it is ludicrous to bring an owl to Athens where there are already so many owls.